WHAT IS RED LIGHT THERAPY?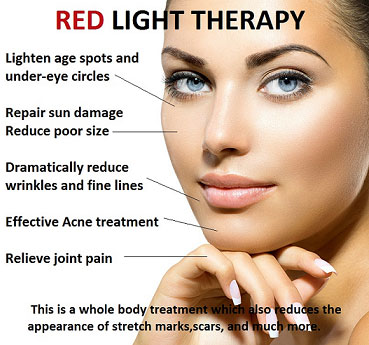 One emerging type of anti-aging treatment has recently gained popularity, but has shown amazing results for years. This treatment, discovered by NASA , is called RED light therapy. RED light therapy is characterized by infrared light, which is a unique type of light that has a stronger wavelength than other types of light. This enables it to penetrate deeper into the skin and provide many therapeutic benefits including improvement in the skin's appearance and structure as well as relief from pain. There is NO UV light associated with RED light therapy.
RED light therapy is able to reduce the appearance of fine lines and wrinkles, sun damage, and skin problems including acne, eczema and psoriasis. The initial effect is clearer, brighter & tighter feeling skin. The long-term effect is improved skin clarity, tone & texture. Fine lines & wrinkles, dark circles as well as puffiness around the eyes are reduced, while the effects of environmental damage and chronological aging are minimized. You will also receive healing benefits as well. Over time, "Collagen Plus" Red Light Therapy will help restore tired-looking skin, diminish freckles, age spots, & acne, even out pigmentation, minimize the size of facial pores, improve the appearance of weathered skin, and stimulate collagen synthesis, improving the skin's supportive structure.
4 TO 6 TIMES A WEEK FOR THE FIRST 2 TO 3 WEEKS, THEN AT LEAST 3 TIMES A WEEK FOR AT LEAST 3 MONTHS. THE MORE AND LONGER YOU USE IT THE BETTER RESULTS YOU WILL GET.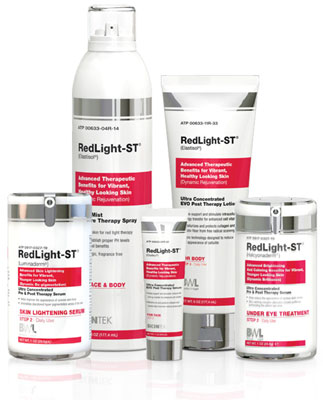 These refreshing light products helps prepare your skin for red light exposure. By establishing your skin's proper PH balance maximum therapeutic benefits are achieved.

Contains Aloe Vera Gel which helps slow the aging process in several ways. As an excellent cleansing and detoxifying agent, aloe removes dead skin cells, wastes, and toxins while purifying the pores. The vitamins, minerals, and amino acids found in aloe nourish and moisture the skin. Aloe rejuvenates and rebuilds healthy skin at an accelerated pace by using the same process that gives youthful skin of children that fresh, healthy glow. Also contains Vitamin C which revitalizes your skin, allowing for improvement in tone and texture.